Are you working for a US multinational in Ireland?
If you are working for a US multinational in Ireland and receive RSUs and/or stock options, then you need to pay tax in Ireland when you sell these shares.
The payment of tax for this is not taken care of by your employer.
You are personally liable to pay tax on the profit you make from selling your RSUs and/or stock options. You pay Capital Gains (33%) on this profit.
We know what your tax obligations are, come talk to us.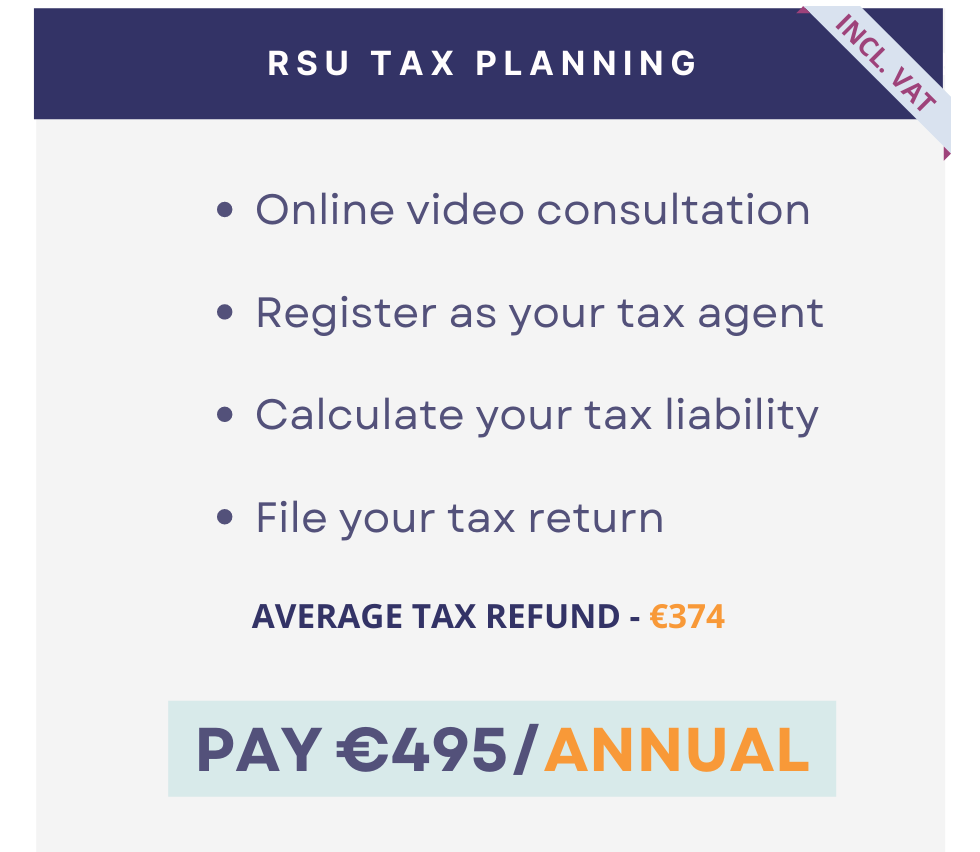 Do you pay Capital Gains Tax on RSUs?
When the shares are sold (disposed of) this is taxable and falls within the scope of Capital Gains Tax. The gain is calculated against the proceeds and the base value of the RSUs when they vest. In Monika's example above the following would apply:
Value at disposal - Value at Vest = Taxable Gain (€500,000 - €50,000 = €450,000). The CGT on the above would be 33% or €148,500
The tax must be paid by the 15th of December of the calendar year of the disposal. If the shares were disposed of in December, then the tax must be paid by the 31st of January of the following year.
Disposal of RSU for a Non-Dom
If you are a tax resident in Ireland but are Non-Domiciled (typically this is where you are born in another country) then it is possible to structure this in a way where you only pay tax on disposed of RSUs that you remit to Ireland.
Let's look at Monika's situation:
Domicile - born in Poland, moved to Ireland 6 years ago. Parents and family still live in Poland. She is clearly domiciled in Poland.
Tax resident - she has lived in Ireland since 2015 and has been tax resident here since then.
Employment - she is working as an engineer for an America SaaS Co for the last 6 years.
RSUs - she was granted 10,000 RSUs @ nil cost in 2015. In 2017 the RSUs vested and she paid tax at the market rate on this vest at her marginal rate.
6 years later, the share price is worth €50 per unit and she has disposed of the RSUs. The funds currently sit in a brokerage account in the US. Currently, she has €500,000 of funds from disposed of RSUs sitting in her brokerage account in the US. As she is a Non-Dom, this does not trigger a tax event.
Each situation is unique but Monika has an opportunity to avail of her Non-Dom position in Ireland and only pay tax only the money that she brings back into Ireland.
We recently held a Q&A style webinar where we discussed RSUs, Stock Options and their tax treatment in Ireland.
Capital Gains Tax on RSUs and Non-Doms
In most cases, the RSUs are held in a brokerage account outside Ireland. In essence, this means that the money is outside Ireland and if you are a Non-Dom, then it is not taxable here.
Potentially, a Non-Dom could only pay CGT on proceeds from an RSU disposal that they remit into Ireland.
Check out our Non-Dom page to learn more about the Non-Dom status.
RSU vesting and tax residency
RSUs are taxable where you are resident at the time of vesting. If the employee is not tax resident in Ireland at the time of vesting, then there is the potential that these RSUs are not taxable in Ireland.
In theory, you could move to another country shortly before the RSUs vest, become a tax resident there and not pay any tax in Ireland.
Say you were granted shares in 2019 and they were to vest on Jan 1 2022. You could move to another country in late 2021 and then become a tax resident there. Potentially, the vesting of those shares might not be taxable in Ireland even though you live in Ireland for a majority of that period. This is a crucial difference between RSUs and regular stock options.
Are RSUs taxed twice?
No, but there are normally 2 tax events. The value of your shares at vesting is taxed as income and anything that is sold above this amount, if you continue to hold the shares, is taxed at capital gains. The second taxable event (the capital gains tax) doesn't apply to any portion you have already paid income tax on.
How can tax planning help?
If you have RSUs that are about to Vest or you are about to dispose of the shares, then it is very important to talk to a tax advisor first. You might be able to structure this in a way that could lighten your tax burden.
This is especially the case for Non-Doms and people that are willing/able to move to another country for a couple of years.
Get in contact using the link below or click on this link to book a meeting with a member of our team.