What companies need to register as a VASP?
VASPs are companies that provide services relating to the:
the exchange between virtual assets and fiat currencies;

exchange between one or more forms of virtual assets;

transfer of virtual assets, that is to say, to conduct a transaction on behalf of another person that moves a virtual asset from one virtual asset address or account to another;

custodian wallet provider; and

participation in, and provision of, financial services related to an issuer's offer or sale of a virtual asset or both.
In general, if your company is in any way related to the trading or holding of crypto assets, then you probably need to register as a VASP.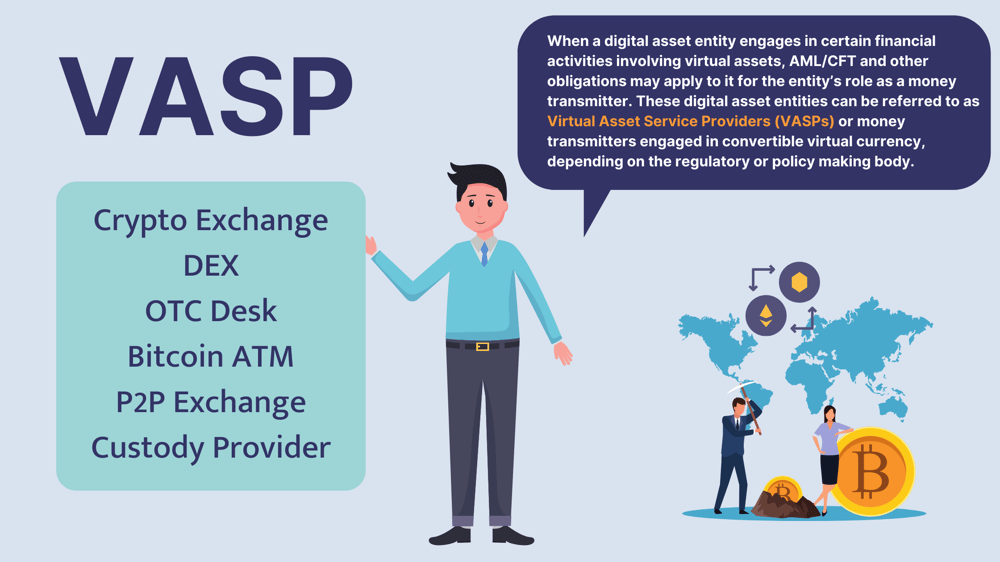 Can a new company register as a VASP in Ireland?
Yes, the company registering as a VASP can be a new Irish company. You do not need to have an Irish company to register in Ireland - but the application must be in English.
What is considered a Virtual Asset?
A virtual asset is "A digital representation of value that can be digitally traded or transferred and can be used for payment or investment purposes"
This includes:
This is based on the FATF standards and a full outline of this can be found here:
https://www.fatf-gafi.org/media/fatf/documents/recommendations/12-Month-Review-Revised-FATF-Standards-Virtual-Assets-VASPS.pdf
VASP KYC - what are the AML & KYC requirements?
The VASP must have an AML/CFT (Combating the Financing of Terrorism) framework in place before making the application. The application is quite detailed and must be accompanied by supporting documents and information including:
its AML/CFT business risk assessment, together with detail of its AML/CFT-related systems, controls, policies and procedures and details of the systems and controls in respect of its assurance testing programme;
an organisation chart and, if relevant, a group structure chart;
a business plan (including details of how transaction flows (of funds and assets) will operate;
details of its beneficial owners and principal officers (directors, secretary, managers and similar officers);
details of all VASP-related outsourced functions.
This is the most significant aspect of the application and the CBI will require detailed and robust answers here.
Is passporting available for VASP?
No, a VASP registration in Ireland will not passport VASP related services to any other EU country. If it wishes to sell services in other countries, it needs to register in these countries.
The European Commission proposed an authorisation regime for crypto-asset service providers, which would facilitate passporting. This is known as MiCA and is not expected to come into force until 2024.
Does the Compliance Officer (MLRO) need to be located in Ireland?
The Central Bank of Ireland does not require a firm's Compliance Officer (MLRO) to be located in Ireland. However, the Central Bank expect that applicant firms have a physical presence in Ireland and at least one employee in a senior management role located physically in Ireland.
What level of expertise is expected of the MLRO?
The Company should ensure that the MLRO:
has sufficient and appropriate AML/CFT knowledge and expertise;
has the autonomy, authority and influence within the Firm to allow them to discharge their duties effectively
is capable of providing effective challenge within the Firm on AML/CFT matters when necessary
has the capabilities, capacity and experience to oversee the identification and assessment of suspicious transactions and to report/liaise with the relevant authorities where necessary in relation to such transactions;
keeps up to date with current and emerging ML/TF trends and issues in the industry and understands how such issues may impact the Firm
has access to adequate resources and information to allow them to discharge their duties effectively; and - Is readily accessible to staff on AML/CFT matters.
Can VASPs offer anonymous cryptocurrencies?
Yes, VASPS are permitted to offer Anonymity-Enhanced Cryptocurrencies (AECs). The company should ensure they demonstrate an understanding of the risks associated with AECs and outline the controls the firm has in place to mitigate these risks – this should be reflected in the firm's Risk Assessment, Policies and Procedures.


If you are interested in registering a VASP in Ireland contact us below.