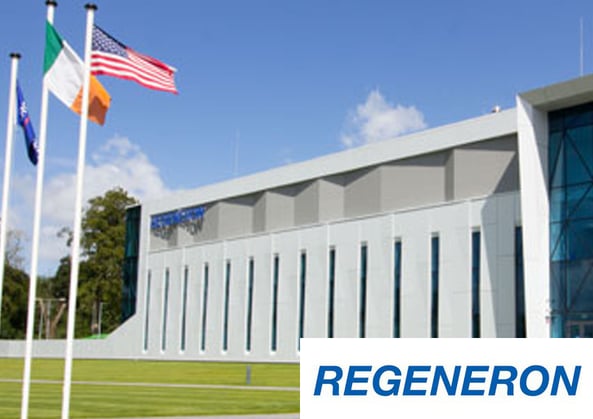 The leading biopharmaceutical company Regeneron Pharmaceuticals has announced that it plans to increase its total number of employees to over 1,400 with the announcement of 400 new jobs at its Limerick campus in Ireland.
Regeneron's announcement is evidence of the company's long-term commitment to Ireland. The company has invested over $1 billion into Ireland building the country's largest bulk biologics production facility. The facility currently employs 1,000 individuals, with more than 300 temporary workers, and approx. 500 construction staff.

Regeneron has already begun recruiting full-time high-end specialist staff in commercial manufacturing, process sciences, quality assurance/control, and supply chain. There are also vacancies for a number of support functions for technicians, scientists, and chemists.
Commenting on Regeneron's continued expansion in Ireland, Niall O'Leary, Vice President & Site Head, IOPS, said, "Just six years ago, we hired our first employee in Limerick. Today, we have more than 1,000 full-time employees at our Limerick campus and with this latest announcement, we are adding an additional 400 people to our world-class team. This demonstrates not only Regeneron's incredibly strong pipeline but our commitment to Ireland and the Mid-West region. I am very proud of what our team has achieved and continue to be impressed with the calibre of talent here."
Ireland's Taoiseach (Prime Minister) Micheál Martin commented on the announcement saying, "This significant jobs announcement by Regeneron is a further vote of confidence in the skills and talent of our workforce and provides a welcome boost to our economy. Ireland continues to resonate with leading global companies for investment. The government's mission over the coming months and years is to rebuild our society and economy in the post- COVID world. We need to get people back to work and to protect and create sustainable jobs. This announcement is an important and welcome step in that journey."
Why did Regeneron choose Ireland?
There are a number of reasons why pharmaceutical companies such as Regeneron choose to set up in Ireland.
Market Access
Access to new markets is often the main reason a company looks to set up in countries outside of their home markets. The Economist Intelligence Unit published a report which found that three in five respondents highlighted market access as one of their top three motivations for setting up international operations. Market access was prioritised over eight other factors;
Availability of key skills - 34%
Government incentives - 32%
Ease of doing business - 32%
Access to the EU - Ireland's specific advantage
Financial Incentives
Ireland has a corporate tax rate of 12.5%.
Ireland offers a 25% tax credit for companies that meet the requirements of the R&D expenditure carried on within the EEA. This tax credit can be used in conjunction with the normal corporation tax rate of 12.5%, thus incentivizing expenditure on R&D at an effective rate of 37.5%.
Ireland holds an IP regime that can help protect innovative companies doing business in Ireland.
The 'knowledge development box' can further reduce the rate of Irish corporation tax to 6.25% for profits derived from certain IP assets. The R&D incentive can be claimed in conjunction with the R&D tax credit 12.5% corporate tax rate.
Talent
Ireland has a strong pool of talent for prospective employers, boasting over 50,000 people directly employed in the Pharmaceutical industry as well as the highest proportion of science and engineering graduates in the OECD. Many of the top Pharmaceutical Companies are located in Ireland. The establishment of these top pharmaceutical companies in Ireland has led to the growth of a highly skilled services industry aimed at supporting the work being carried out across the many facilities.
Ireland's Pharmaceutical Industry
The Pharmaceutical industry in Ireland began in the 1960s and was initially focused on creating bulk ingredients. It now comprises pharmaceutical, biotechnology and medical device facilities. The Pharmaceutical Companies currently operating in Ireland are involved in all activities from early-stage R&D to manufacturing and delivery of finished products to market.
Interesting facts about Ireland's Pharmaceutical Industry;
9 of the world's largest pharmaceutical companies are located in Ireland.
Within the last 10 years, the biopharmaceutical industry has invested approx. $8 billion in new facilities in Ireland.
8 of the top 10 medical device companies are located in Ireland.
Ireland is the largest exporter of pharmaceuticals in the EU.
7 of the world's top 10 selling drugs are manufactured in Ireland.
Pharmaceuticals account for 50% of all exports from Ireland.
13 of the world's top 15 MedTech companies are located in Ireland.
Irish based Pharmaceutical Companies

Johnson & Johnson – Regeneron - Novo Nordisk – Biogen – Shire – Stryker – Teva – Baxter Roche – Pfizer – Novartis – MSD – Amgen – Sanofi – AbbVie – GlaxoSmithKline – Bayer – Eli Lilly – Gilead Sciences – Bristol-Myers Squibb – Allergan – AstraZenecaAbbott -Abbott – Alexion.
If you are interested in learning more or would like to set up your own company in Ireland you can contact us using the form below: