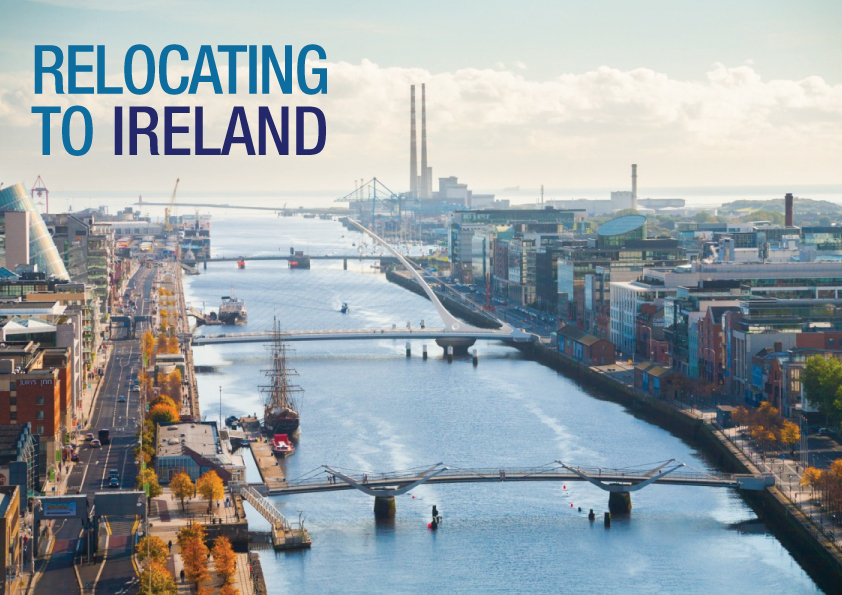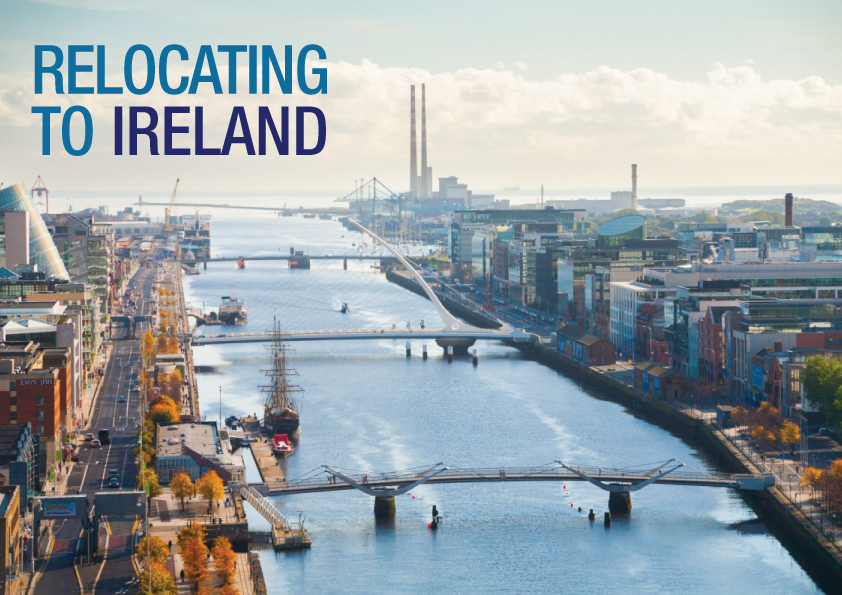 Ireland has been the country of choice for a large number of companies looking to access the EU market, but that's not the only reason that brings them to Ireland. Companies like Google, Facebook, IBM, Dell/EMC, Eli Lilly, Pfizer, GSK and many others have chosen Ireland as the destination for their European headquarters. With Brexit looming over the UK, a number of companies there are looking to follow suit, and for good reason. Why start a business in Ireland? Why move your business to Ireland in 2022? Aside from the fact that Ireland is the last remaining country in the EU where English is the primary language spoken, the country has a huge amount to offer companies looking to relocate their business.
Ireland's economy has shown consistent growth
Indigenous exports recently increased by 60% to reach €20.6 billion.

The country's visitor revenues exceeded government targets by 20%;

Foreign direct investment (FDI) targets were surpassed by 30%.

Ireland's competitiveness increased from the 17th most competitive in 2013 to the 6th most competitive in 2017. Ireland is currently ranked 13th out of 64 countries (IMD Rankings)

Ireland was the EU's fastest-growing economy in 2021. The gross domestic product grew by 13.5 percent in 2021.

Ireland has received an "A" grade from all major credit rating agencies.

High levels of investor confidence in the Irish Economy:

– Sovereign debt ratings upgraded.

– Irish bond yields are trading below 1% and in line with core European sovereign yields.

Additional capital expenditure to 2021 will see capital public investment in Ireland move to among the highest in the EU.
Labour Market continues to strengthen
Strong employment growth – over 2.2 million people at work in Ireland

Ireland's unemployment rate is below the EU (4.7%) and Eurozone (6.8%) average

Exporting companies created 1 in every 2.5 additional jobs in Ireland since 2012

Youngest Population in the EU: 33% under 25 (EU 28: 26.8%)
Taxation
Ireland's favourable corporate tax rate of 12.5% is one of the lowest in Europe.

Ireland has 73 tax treaties with other countries such as; the US, UK, China, Japan, Australia, Canada and more.

Start-up companies are exempt from corporation tax for their first three years, once profits are less than €320k.

R&D Tax credit of 25%.
Language
Ireland is the last remaining country in the EU where English is the primary language spoken.
Population


Ireland has the youngest population in Europe. 49% of the population is under 35 years old.

20% of Irish students are in 3rd level education studying Science and Engineering.

25% of Irish students are in 3rd level education studying Social Sciences, Business, and Law.
Multi-Cultural Society
Ireland has more than 535,000 non-Irish nationals.
Persons born abroad account for just over 17% of the country's population.
Over 70% of the non-Irish national population are from 12 nations – Brazil, France, Germany, India, Italy, Latvia, Lithuania, Poland, Romania, Spain, the UK and the U.S.
The most spoken foreign languages in Ireland are:
Polish (135,896)

French (54,948)

Romanian (36,683)

Lithuanian (35,362)

Spanish (32,405)

German (28,331)
Companies operating in Ireland have access to a labour pool of almost 400m people from across the EU.
Education
Ireland boasts one of the most educated workforces in the world. 52% of 25-34-year-olds in Ireland have a third level qualification, compared to an OECD average of 43%.
Ireland's education ranks in the top 10 globally for:
Quality of the education system.

University education that meets the needs of a competitive economy.

Knowledge transfer between universities and companies.
Industry and Academia - A "collaboration culture"

Ireland has one of the highest graduation rates in the mathematics, science and technology fields within the EU (Eurostat 2015). The "collaboration culture" that exists here between industry leaders, research centres and academia enables Ireland to develop as a world-class graduate. One example of this collaboration in action is the Atlantic University Alliance (AUA), which is a consortium of three Universities on the Atlantic coast of Ireland – NUI, Galway, the University of Limerick and University College Cork. At the heart of the Atlantic, University Alliance is its interaction with academia and industry, bridging the needs of industry with the expertise of University academics.
Another example of "collaboration culture" in Irish education can be seen at BioInnovate Ireland, which is based on a programme at Stanford University, California, called Stanford Biodesign. Ireland's BioInnovate is a medical technology innovation programme based in the National University of Ireland (NUI), Galway. It focuses on developing the next generation of MedTech entrepreneurs. The programme represents an enormous opportunity for engineers, doctors and business people looking to make an impact in the MedTech sector.
Springboard Programme
This programme is designed to help job seekers, both those in employment or self-employment who wish to upskill/reskill in the Biopharma/Medtech and ICT sectors. Springboard provides over 6,400 free education places in 198 courses at both public and private educational institutions across the country.
Market Access
One of the main reasons companies look to invest in countries outside of their home markets is to gain access to new markets. A report from the Economist Intelligence Unit found that three in five, or 58%, of respondents, emphasised market access as one of their top three motivations for setting up international operations. Market access was prioritised over eight other factors;
Availability of key skills - 34%

Government incentives - 32%

Ease of doing business - 32%
Access to the EU - Ireland's specific advantage

The report shows that when asked about Ireland's main competitive advantages, the country's access to European markets was top of the list. 46% of respondents highlighted market access, much more than any other factor.
(see below graph/Figure 1).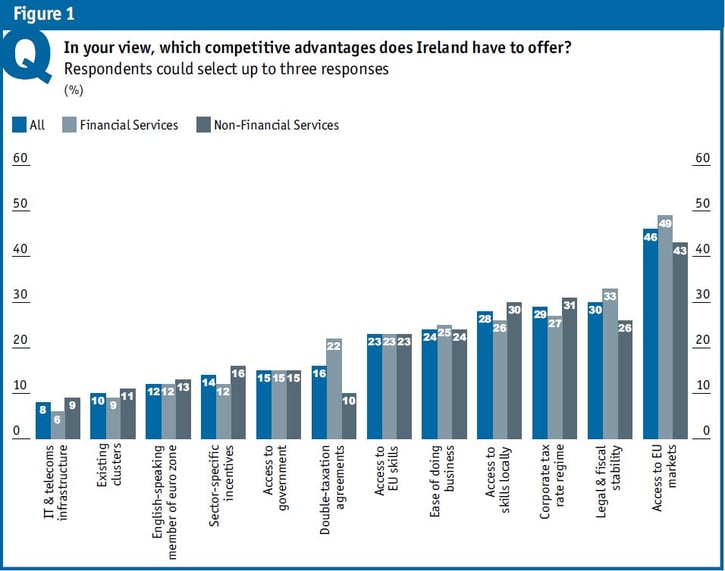 Companies that have already chosen Ireland
Ireland's Technology and Software industry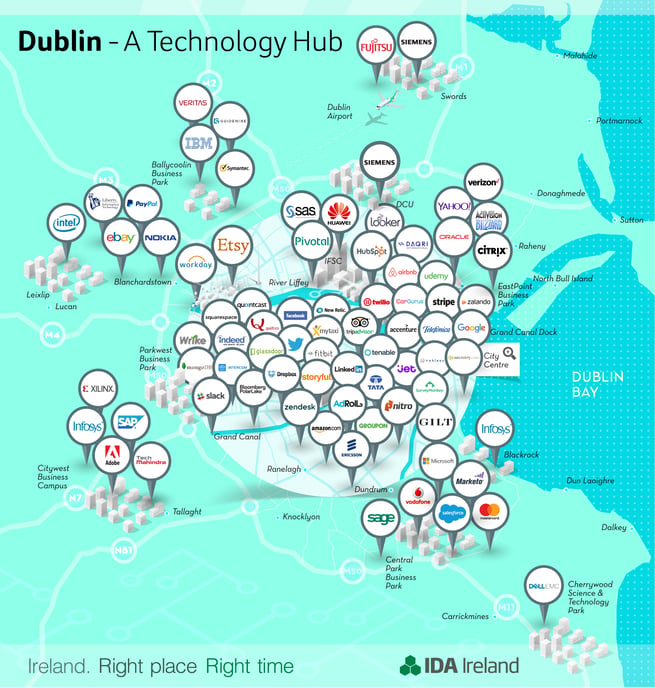 Ireland's Technology and Software industry began over 60 years ago when IBM opened its Dublin office in 1956, followed by Ericsson in 1957. More companies would choose Ireland in the decades that followed such as; Hewlett Packard in the 1970s, and Microsoft, Dell, Oracle, and Intel in the 1980s. The 1990s saw the arrival of Symantec, Fidelity, SAP, and Pilz. Increased growth was experienced in the 2000s with Google, Yahoo, Sita, Amazon, eBay, Cisco, Aon, Facebook, Workday, Mastercard, and Citi all set up in Ireland.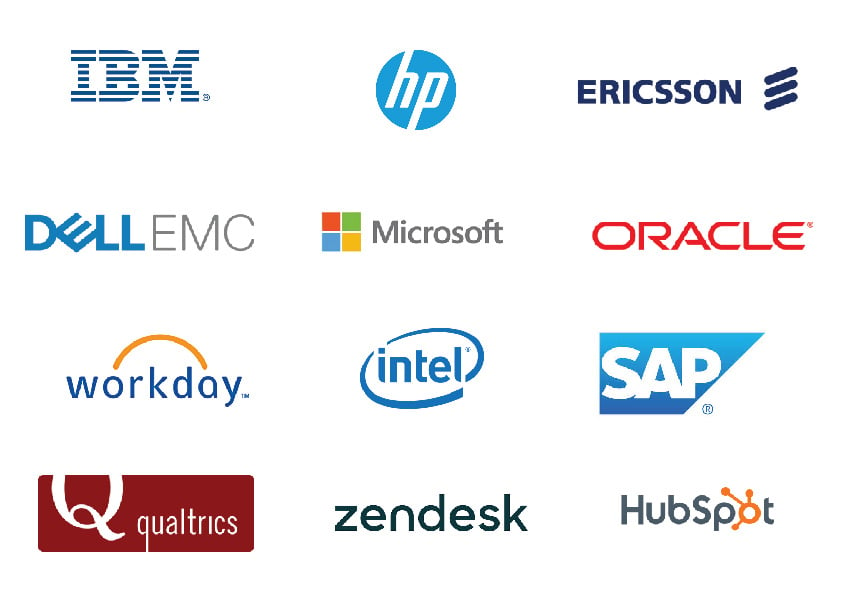 Ireland's Pharmaceutical & Biopharmaceutical Industry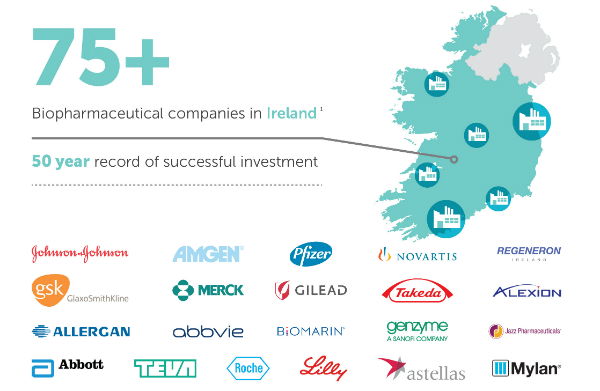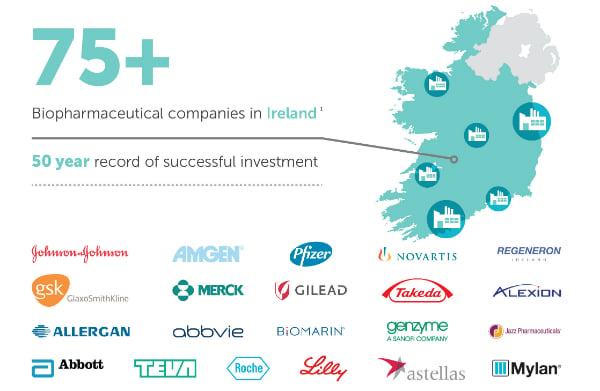 The Pharmaceutical industry began its life in Ireland in the 1960s creating bulk ingredients. It now comprises pharmaceutical, biotechnology and medical device facilities that are involved in all activities from early-stage R&D to manufacturing and delivery of finished products to market.
It now boasts the following;
9 of the world's largest pharmaceutical companies are located in Ireland.

8 of the top 10 medical device companies are located in Ireland.

7 of the world's top 10 selling drugs are manufactured in Ireland.

Ireland is the largest exporter of pharmaceuticals in the EU.

Pharmaceuticals account for 50% of all exports from Ireland.

13 of the world's top 15 MedTech companies are located in Ireland.

Within the last 10 years, the biopharmaceutical industry has invested approx. $8 billion in new facilities in Ireland.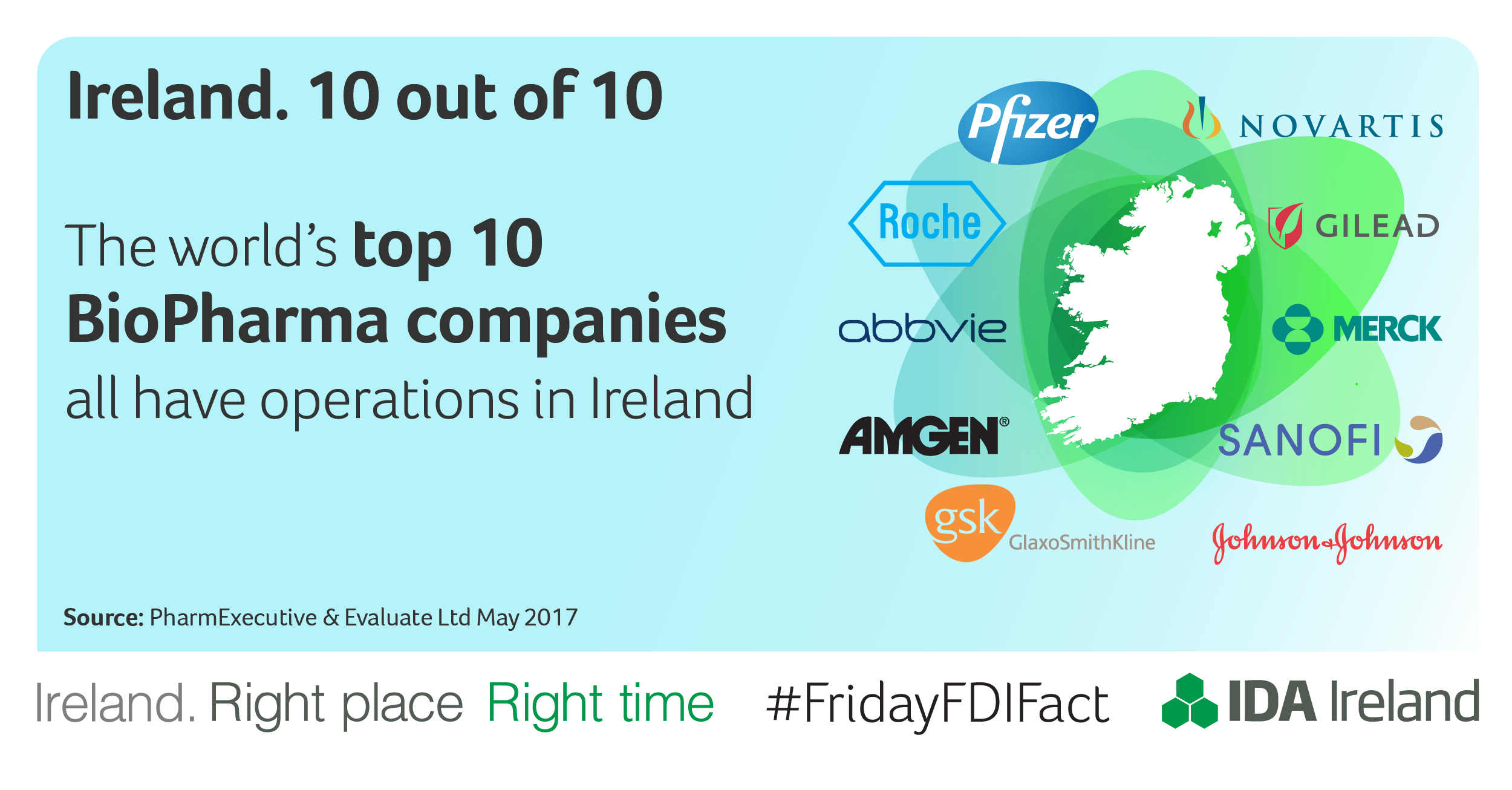 Top Pharma, Biopharma, MedTech & Life Science Companies located in Ireland:

Johnson & Johnson – Roche – Pfizer – Novartis – MSD – Amgen – Sanofi – AbbVie – GlaxoSmithKline – Bayer – Eli Lilly – Gilead Sciences – Bristol-Myers Squibb – Allergan – AstraZenecaAbbott -Abbott – Novo Nordisk – Biogen – Shire – Stryker – Regeneron – Teva – Baxter – Alexion
Ease of doing business
A report by the World Bank ranked fourth in the EU for "ease of doing business."
The World Bank evaluates the "ease of doing business" by using ten different components. These include;
Starting a business and paying taxes

Dealing with Construction Permits

Getting Electricity

Registering Property

Getting Credit

Protecting Minority Investors

Paying Taxes

Trading Across Borders

Enforcing Contract

Resolving Insolvency
Ireland is Pro EU
Ireland will remain a core member of the EU single market & Euro currency

Ireland will be the only English speaking country in the Eurozone, post-Brexit

Ireland is most positive about the EU. 86% are in favour of the free movement of EU citizens to live, work, study, do business in the EU (EU average 81%)

Proportionally Ireland has the 3rd highest international workforce in Europe. Today, 15% of Ireland's workforce is international.



How to relocate - Process
If you are based outside of the EEA you will need to acquire 'business permission' from the Irish Government. Your business must meet the following criteria prior to receiving 'business permission':
Your business must create employment (aside from your own) for at least two EEA nationals. Alternatively, in the event that you have an existing business, your investment must deliver continued employment to your workforce.

Your proposed business must add to the competitiveness and commercial activity of Ireland.
If you are based inside of the EEA you will not require 'business permission.' As a resident of an EEA country, you are entitled to set up a company in any of the member states.


Visas and Residency - Is there help available?
Ireland offers a variety of programmes for new companies with regard to visas and residency applications. There are a number of different schemes available:
a) Start-Up Entrepreneur Programme
This programme applies to non-Irish nationals who have an innovative business proposal for a 'high-potential start-up.' A minimum approved funding of €50,000 is required for the Start-up Entrepreneur Programme. If an individual does qualify for the programme they can be given residency in Ireland. There are no requirements for the business to meet specific job creation targets.
'High potential start-up' criteria:
Your business should introduce a new and innovative product into the Irish marketplace

Your business should be headquartered in Ireland

Your business needs to have been trading for less than six years

Your business should be operated by experienced managers

Your business should have the potential to create no less than 10 jobs and €1 million in revenue.
b) Immigrant Investor Programme
This programme is available to non-EEA individuals and their immediate families, on the condition that your company has pledged itself as an 'approved investment.' Under this scheme, individual investors and their immediate families are allowed to enter Ireland and remain here for up to 5 years. (This can be renewed after the initial 5 years.) In order for the application to be approved the proposed investment needs to be beneficial to Ireland. It should create employment and be in the public interest.
Funds
Potential applicants are required to demonstrate that they own the funds which they are planning to invest and prove that their funds were acquired legally. Funds cannot be borrowed.
To qualify for this programme, your investment must be in one of the following categories:
Enterprise Investment: This requires a minimum investment of €1 million in a new or existing Irish business for a period of at least 3 years. The business must be headquartered in Ireland.
Investment Fund: This requires a minimum investment of €1 million in an approved investment fund for a period of at least 3 years. Funds must be invested in an Irish registered company that is not quoted on any stock exchange.
Real Estate Investment Trusts: This investment requires a minimum investment of €2 million for a period of 3 to 5 years period in any Irish Real Estate Investment Trust (REIT). The REIT in question must be listed on the Irish Stock Exchange. The €2 million investment can be spread across a number of different REITs.
Endowment: This investment requires a minimum endowment or philanthropic donation of €500,000 to a project that is of public benefit to the arts, sports, health, culture or education in Ireland.
Relocating staff to Ireland?
Ireland's economic environment is engineered to encourage foreign direct investment (FDI). This includes its employment permits and how they are granted. There are a number of employment schemes available for those looking to relocate staff:
a) Intra-Company Transfer Permit
This permit is designed for those who need to relocate key personnel to Ireland to help in the development of their business. One of the major benefits of the Intra-Company Transfer Permit is that it permits the temporary placement of senior staff members in the Irish business, while simultaneously allowing them to stay on the parent company's payroll. In order for a business to qualify for this permit, it must meet the following criteria:
the employee must be a key employee/essential to the running of the business.

the employee must earn more than €40,000.

the employee must be in a senior role such as; a manager or director.
It is important to note that if the spouse, partner or any dependants of the holder of an Intra-Company Transfer Permit intend to come to Ireland, a separate employment permit will be required.
b) Critical Skills Employment Permit
This employment permit is intended for individuals with specialised or advanced skills wishing to work and take up residency in Ireland. Certain criteria are required for this permit. The prospective employer must adhere to the following:
They must operate a private limited company that is registered in Ireland.

They must provide a job offer with a salary in excess of €64,000, or alternatively for a limited number of important/essential occupations with a salary guide between €32,000 and €63,999.

The job offered must be for a duration of 2 years or more.
c) General Employment Permits
In contrast to the Critical Skills Employment Permit, this permit is open to all occupations, unless they have been excluded as Ineligible Employments. General Employment Permits can be granted for a period of 2 years, after which point they may be renewed for a period of 3 years. Once the 5 years are over, the individual can look at more permanent residency options by applying to the Irish Naturalisation and Immigration Service.
d) Trusted Partner Initiative
Launched in May 2015, the main purpose of the Trusted Partner Initiative is to create an easier and faster administrative process for employers when applying for employment permits. It is of great benefit to companies trying to secure permits for multiple applicants. The initiative is mainly intended for high volume employers, such as companies in 'expansion mode' and start-ups.
There are 5 key benefits:
Status valid for 2 years.

Decreased work permit processing times.

Shortened, company-specific employment permit application forms.

Reduced paperwork for every work permit applied for under the scheme.

The initiative extends to all work permit types.
The Trusted Partner Initiative removes the need for employers to replicate the same employer information for each employment permit application. When Trusted Partner status is granted, the employer is provided with a unique Trusted Partner Registration Number. This number gives each employer access to their own suite of employment permit application forms.
While the signature and details of the foreign national will still be required in each individual case, access to their own suite of employment permit application forms means that the host and sending entities will no longer need to sign the permit application form themselves. This reduction in paperwork for Trusted Partner applications significantly speeds up the entire process.


What types of businesses are acceptable?
Private limited companies (Ltd) incorporated in Ireland are the most common commercial entities. The following criteria need to be met:
The company must have the intention of business activity in Ireland including the holding, acquisition or disposal of any kind of property.

The company must give details concerning where it will conduct its business in Ireland, as well as the areas it plans to operate in.

There must be a search conducted with the Companies Registration Office (CRO) concerning the proposed name of the company. This is to ensure that the name proposed for the company is not

already in use or is not overly similar to the name of a company that already operates in Ireland.

It is necessary that at least one of the directors of the company must be resident within the European Union (EU). In the event that this is not possible, the company will be entitled to hold a bond to the value of €25,400. For this, an insurance company will provide two original bonds, and the company must file both of these with the Companies Registration Office (CRO).
In the event that an individual decides that they do not want to incorporate a private limited company in Ireland, they may use a company incorporated outside of Ireland, operating their business in Ireland through the use of a branch office. A branch office, in Irish law, is a branch of a foreign company that operates in Ireland. It must meet the following:
have the appearance of permanency

have a separate management structure

have the ability to negotiate contracts with third parties

have a reasonable degree of financial independence
Where to start?
If you are looking for information on how to register a business in Ireland, the first step you need to take is to contact an experienced professional. Everyone's situation is unique and it's important to get your business off on the right foot. Our compliance experts can provide you with all the necessary information and the costs of setting up a company in Ireland.


If you're looking at starting a business in Ireland you can contact us directly using the form below: